Nothing I'm about to say is new. It's been said by others in one form or another countless times. Anyone who has been or currently is in possession of a toddler will likely relate to this completely. But I need to get it out so I'm going to say this all again: my toddler is driving me to distraction. Everything is a drama. No option she's presented with is right: she's tired but doesn't want to sleep; she's hungry but doesn't like any of the snacks on offer; she wants to go for a walk but doesn't actually want to walk! ARGGGHHHHHH.

Daddy had to move so she could sit on that horse!
Pre-motherhood I wasn't always the most patient of people, but I was capable of gritting my teeth, biting my tongue, swallowing my pride. As I watch people with Little H now – even her dad – I realise how my patience and tolerance has grown in the last two years. I'll sit there whilst she faffs about with her shoes. I'll bake an extra 15 minutes into our going out plans knowing that she'll climb up the stairs countless times to 'booomp' back down again. But every now and then she'll go through a 'change' which makes all of her negative toddler traits that bit harder to bear. We are going through one of those periods as I write this.
But as I sit on the sofa after we've put her to bed – even 90 minutes after we've left her and I can still hear her faffing rather than sleeping – I have to remind myself that she's still small. For all her chat and bravado, she's not even 2.5 years old yet. Her mind is not mature enough yet to deal with logic and reason. She doesn't 'get' that if she sleeps late tonight then she'll be tired for nursery tomorrow. She doesn't understand that when I ask her to sit down so I can dry her hair, it's to stop her getting poorly rather than to just ruin her fun!
Remembering that doesn't make it any easier though. I just have to steel myself and ride out the storm. Because it will pass. Or I will adapt and find a way of making it less painful, even if it simply means ignoring things and staring into space with a glazed look in my eyes…
Rant over. Thanks for bearing with me!
This post was 'awarded' feature post status: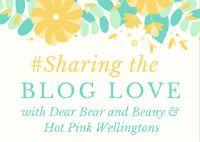 This post has been linked-up to some of the amazing linkys below: